This form is designed to produce a manhole base shell that has a base floor and straight wall.
The inner core is collapsible using the Toyota 'one-touch' system which is coupled with an adjustable base pallet that allows for production of varying base shell heights.
This form can be opened for stripping in less than 1 minute.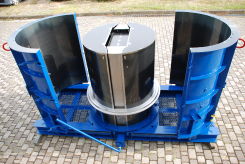 Monolithic Base Shell with Cast in Channel
This form is designed to produce a base shell with cast-in channels.
The quick change inner core cap allows versatility for production of various channel types . The inner core cap can be custom manufactured to any degree that may be required.
Examples include: 90 degree Right, 90 degree Left and 180 degrees and so on.
This form can also be produced with any type of mandrel for holding inserts. Examples include: Boot, clay pipe , A-Lok and Sand sleeve styles.

These forms are available in both Eccentric and Concentric styles.
They are also available with the Toyota 'one-touch' step insert holding system which allows for quick and easy stripping.

This is a 10-cavity form that will produce 10 pieces of the manhole riser in one pour.
It has a collapsible inner form and is very easy to pour and strip.

Manhole Forms with the Cast-in Steps
This manhole cone form will produce a cone with 'cast-in' steps.
It is easy to set the steps in position for pouring and the Toyota 'one-touch' retractable inner core allows for easy stripping.